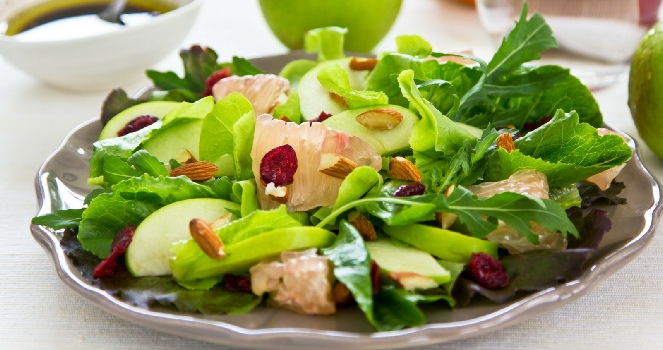 Old Fashioned Apple Salad
Sauce
½ cup sugar
1½ cups milk
2 Tbsp flour
Pinch of salt
2 Tbsp vinegar
Salad:
Apples, red or golden delicious
1 orange, peeled and diced
1 large banana, diced
1 cup raisins
½ cup nuts
¼ tsp fresh or grated, dried orange peel
Candied red cherries, optional
Prepare sauce by mixing all ingredients until smooth and cook until thick, stirring continuously. Prepare apples and dice amount
desired in a mixing bowl. Add remaining ingredients. Pour part of the sauce over salad and mix. Add more sauce if needed. Chill 2 hours before serving.

Print
Turkey Waldorf Salad
4 cups cooked, diced turkey
3 Red delicious apples, diced - do not peel
1 cup sliced celery
1 cup pecans
Dressing
1 cup mayonnaise
1 Tbsp lemon juice
1/4 cup sugar
1/4 cup evaporated milk
1/4 tsp celery salt
1/4 tsp salt
Combine turkey, apples, celery and pecans. To make dressing, mix all ingredients well and add to salad.
Mix well and refrigerate.
Apple Crisp Salad
1 3 oz. envelope unflavored gelatin
1/2 cup cold water
1 cup hot apple juice
1/4 cup lemon juice
3 Tbsp honey
1/2 tsp salt
1/2 cup chopped celery
2 tart apples, diced
1/4 cup chopped nuts
Soften gelatin in cold water; dissolve in hot apple juice. Add lemon juice, honey and salt. Stir until dissolved. Chill until syrupy; fold in remaining ingredients. Turn into 5-cup mold that has been rinsed in cold water. Chill. When firm, unmold on salad greens. Serve with desired dressing.
Makes 6 servings.
Spinach Salad with Apples and
Pomegranate Seeds
1/2 cup honey Dijon dressing
2 apples, coarsely chopped
1/2 cup pomegranate seeds
1/4 cup chopped celery
6 cups baby spinach leaves
1/4 cup toasted pecans, coarsely chopped
Pour dressing over apples, pomegranate seeds and celery in large bowl and mix lightly. Add spinach and nuts and toss lightly.