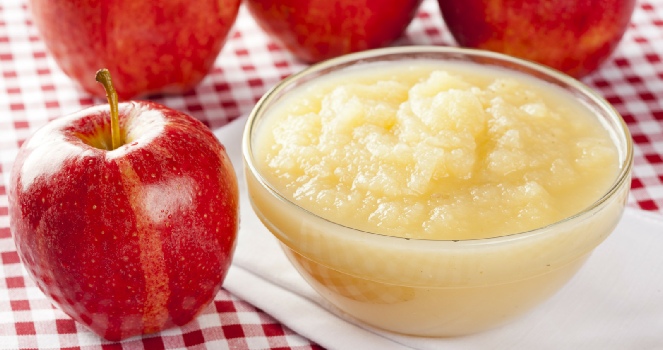 Fried Apples
1/4 cup solid bacon drippings (strained)
6 tart apples, peeled, cored and cut into eighths
1 tsp lemon juice
1/4 cup packed light brown sugar
1/8 tsp salt
1 tsp ground cinnamon
pinch of nutmeg
In a large skillet, melt drippings. Pour apples slices over the bottom of the skillet. Pour lemon juice over apples, add the brown sugar and salt. Cover and cook over low heat for 15 – 30 minutes until tender and juicy. Sprinkle with cinnamon and nutmeg before serving.
Serves 6.

Print
Roasted Sausage, Apples, Leeks & Potatoes
2 small crisp red apples
(such as Empire or Braeburn, quartered)
2 leeks (white & light green parts only),
halved crosswise & lengthwise
2 yellow potatoes (about 1/2 lb total),
cut into 1/2 in thick wedges
8 sprigs fresh thyme
2 Tbsp olive oil
Kosher salt & pepper
8 small chicken sausage links (about 1 1/2 lb total)
Heat oven to 425 degrees. In a large roasting pan, toss the apples, leeks, potatoes, thyme, oil, ½ tsp salt and ¼ tsp pepper. Roast for 15 minutes. Stir the vegetables and add the sausages to the
pan, nestling them among the vegetables. Roast until the sausage is cooked through and the vegetables are tender – 15 to 20 minutes
More.
Serves 4.
Apple Sauce
8 tart apples Dash cinnamon
3/4 cup water
1 tsp grated lemon peel (optional)
1/2 cup sugar
1/4 tsp nutmeg
Peel and core apples; slice thin. Add just enough water to prevent scorching. Bring to a boil; lower heat to simmer; cover. Cook about 20 minutes or until apples are soft. Put through a food mill or sieve.
Add sugar (amount depends upon tartiness of apples) and spices.
Stir in lemon peel, if desired.
Grilled Cheese and Apple Sandwich
8 slices 12 grain bread
4 tsp honey mustard
6 ounces 2% cheddar, shredded (about 1 ½ cups)
1 tart apple, cored and thinly sliced
Spread 1 piece of bread with 1 teaspoon honey mustard; then layer 1/4 cup grated cheese, 4 apple slices and another heaping tablespoon of cheese. Top with another slice of bread; spritz with
nonstick cooking spray.
Heat a small nonstick skillet over medium heat. Place sandwich, cooking spray-side down, in pan and coat top slice of bread with nonstick cooking spray. Press with spatula.
Cook for about 2 to 3 minutes or until golden brown. Flip and cook for another 2 to 3 minutes. Repeat with remaining sandwiches.
Apple Chops
4 apples, medium Cooking oil spray
4 boneless, sirloin pork chops
1/2 inch thick, trimmed of all fat,
(approx. 4 oz each)
1/4 tsp salt
1/8 tsp pepper
Preheat oven to 350 degrees. Core apples and cut into quarters; cut each quarter into 3 or 4 slices. Coat baking pan with cooking oil spray; place chops in the pan; salt and pepper chops. Place apples around chops; bake 25 minutes. Remove chops from pan to serving plate and surround with the apples. Makes 4 servings.
Slow-Cooker Bratwurst
With Sauerkraut and Apples
8 bratwurst links
1 16 oz pkg sauerkraut, rinsed and drained
2 medium tart apples, peeled, cored,
cut into 1/2 inch dice
1 medium onion, finely chopped
2 Tbsp packed light brown sugar
1 Tbsp caraway seeds
1/2 cup mustard 8 hot dog buns
Place bratwurst links in slow cooker and top with sauerkraut, apples and onion. Sprinkle with brown sugar and caraway seeds. Cover and cook on low until bratwurst reaches 165 degrees on an instant
read thermometer, 3 to 4 hours.
Spread 1 Tbsp mustard on each hot dog bun. Spoon some sauerkraut mixture on buns, top each with a sausage and serve.