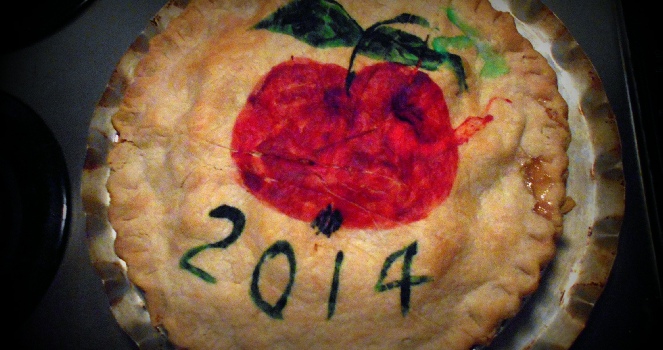 Fall Apple Cake
Butter (to grease pan)
2 cups sugar
3 eggs
1 1/2 cups vegetable oil
1/4 cup orange juice
3 cups flour
1 tsp baking soda
1/4 tsp salt
1 Tbsp cinnamon
1 Tbsp vanilla
3 cups chopped apples
1 cup shredded coconut
1 cup chopped pecans
Preheat oven to 350 degrees. Grease tube pan. In a large bowl, combine sugar, eggs, oil, and juice. Add flour, baking soda, salt, cinnamon, and vanilla. Mix well. Add the apples, pecans and
coconut. Bake 1 ½ hours. Recommended to bake 1 hour and 20 minutes and check until toothpick is dry.

Print
Apple Crisp
6 cups apples, thinly sliced
1/3 cup sugar
1 tsp cinnamon
½ tsp salt
2 Tbsp butter (melted)
2/3 cup sugar
½ cup flour
1/3 cup butter
Mix together apples, 1/3 cup sugar, cinnamon, salt and melted
butter. Place in 8 inch square baking dish. Set aside. Combine
2/3 cup sugar and flour. Cut in butter until crumbly. Sprinkle over
apples. Bake at 375 degrees about 45 minutes.
Apple Pie
3 or 4 medium apples, thinly sliced
3/4 cup sugar
2 Tbsp flour
1/4 cup brown sugar
2 Tbsp butter
1/2 tsp cinnamon
2 unbaked pie crusts
Mix sugars, flour and cinnamon together. Arrange apples in a layer in crust. Sprinkle half of mixture over apples. Add another layer of apples and sprinkle the rest of the sugar mixture. Dot butter over the pie. Add the top crust. Cut slits in crust. Bake at 425 degrees for 10 minutes. Reduce heat to 350 degrees and continue baking
about 40 minutes or until top is golden brown.
Apple Walnut Brownies
1/2 cup butter or margarine
1/4 tsp baking powder
2 squares (1 ounce each)
2 eggs
unsweetened chocolate
1 cup sugar
1 cup sifted cake flour
1/4 tsp salt
1 cup walnuts
1 cup finely chopped apples
1 tsp vanilla
Melt butter and chocolate together over hot water. Beat eggs until light and lemon colored. Add sugar gradually while continuing to beat. Stir in chocolate mixture and beat hard 1 minute. Mix and sift flour, baking powder and salt; stir in. Add apples, nuts and vanilla.
Spoon in greased 8" square cake pan. Bake at 350 degrees for about 40 minutes, or until done. Cool. Cut into squares to serve.